Frequently Asked Questions
Frequently Asked Questions
Backup and Restore mySQL database in Cpanel
We've covered how to back up and restore files and folders in Cpanel in another article.  For sites that use mySQL like WordPress, you also need to be backing up your database.  The following Cpanel article is an excellent overview of some of the methods you can use to backup and restore your database.
If you need additional assistance, please let us know.
Backups and Restores in Cpanel
Cpanel is an extremely popular Control Panel offered by the majority of web hosting companies.   There are a wide variety of tools available that allow you to perform Backups, Restores and Installation of popular software products like WordPress for example.  The presentation linked below was used to outline many of the tools available.  It contains many screenshots, however, it does not go into a great deal of explanation.  I'll leave that to the many, many youtube videos already created.
Cpanel Backups and Restores Presentation (Click to view or download PDF)
Some of the tools you might want to learn more about in Cpanel are:
File manager (Under Files)
Disk Usage (Under Files)
Backup (Under Files)
File and Directory Restoration (Under Files)
phpMyAdmin (Under Databases)
WordPress Manager (Under Applications)
WordPress Installer (Under Softaculous Apps Installer)
Site Software (Under Software)
There are many resources online that go into depth on using these tools including the documentation found at
https://documentation.cpanel.net/display/80Docs/cPanel+User+Documentation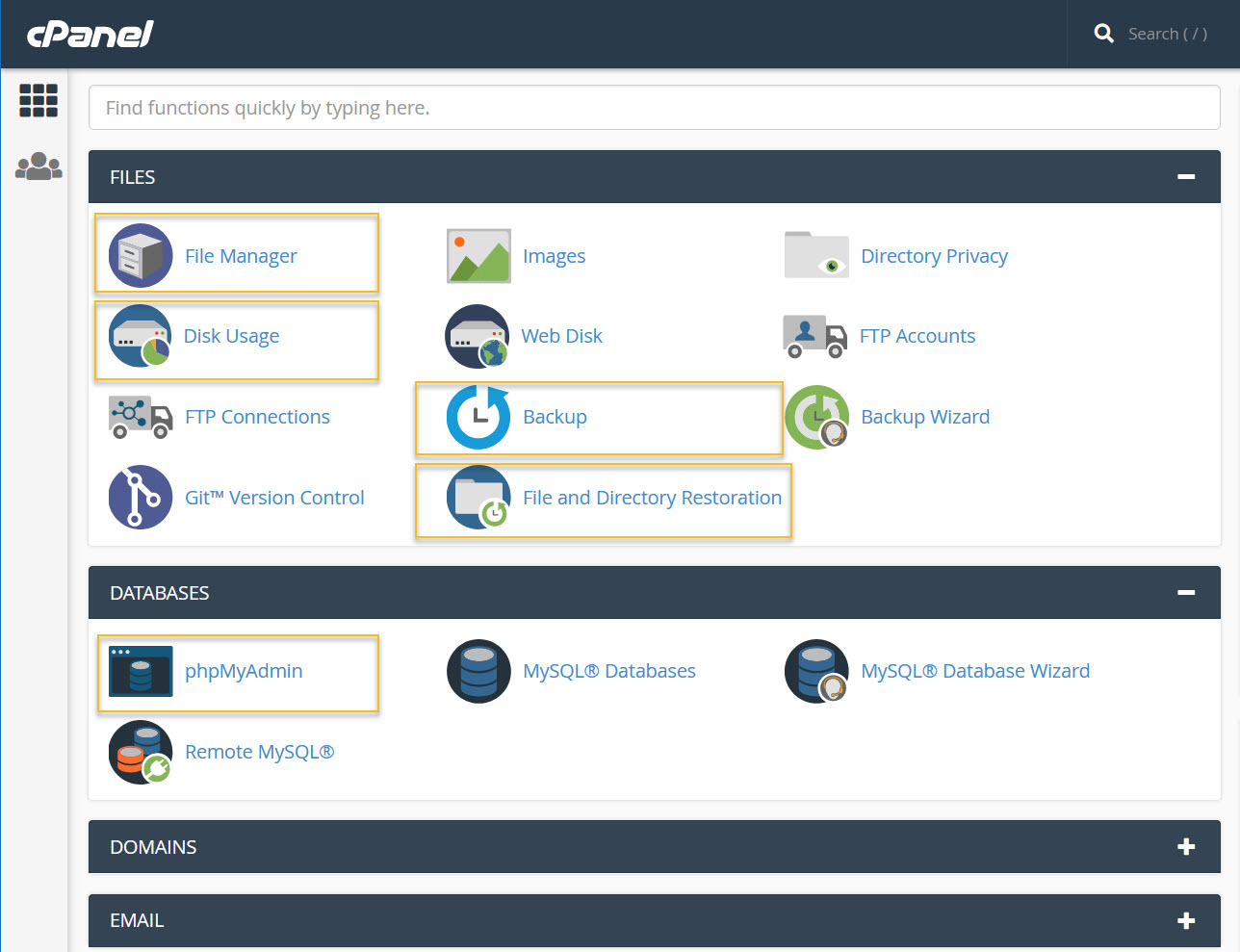 Please contact us if you have any questions or need additional help.
Uploading files to server with SFTP or File Manager in Cpanel
Many users who need to upload one or two files to the server will use the File Manager inside Cpanel which usually works very well for simple needs.   If you have a large number of files to upload or download though, you will probably want to use a stand alone FTP manager like FileZilla
You will need to set it up as shown in the following screenshot: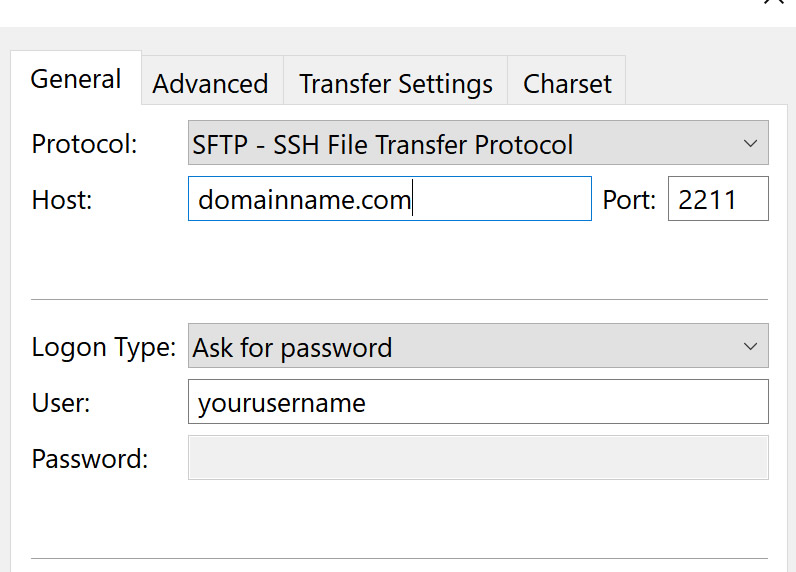 Please contact us if you have any questions or need additional help.
Where do I make changes to my domain registration?
To access the domain control panel, please go to https://manage.opensrs.net
In many cases, you will not know the login for your domain as there were security upgrades made in 2016, however, we're happy to assist.  We can either make the changes for you, or forward you your login name and a password reset link via email.
How do I change my wordpress site to https?
Changing your website to https from http is a very good idea right now. Google is already making changes to how Chrome displays pages with forms and showing alerts to your users that sites that are 'Not Secure'.
In addition, sites that are using https will gain better rankings in Google. You will need an SSL certificate in order to display a lock symbol in the address bar to tell customers your site is secure. But this is not enough, since there are many elements on your webpage that might be pulled insecurely such as images. On many HTML sites, there is not a lot of work involved, however, WordPress in particular does have several steps you will need to take to properly set your server and site to be ready.
Check our article on "Changing to HTTPS on your WordPress site"
How do I change the directory my wordpress site is in?
When you have created a new WordPress website in a subdirectory of your site (in public_html/newsite for example), you will eventually need to move the site to replace an older exisiting site that lives in the public_html directory.  There are a few steps involved but it is not too difficult to do.
Check our article about Moving your wordpress site to a different directory.
How do I find Cpanel?
Cpanel is the administrative control panel where you administer many things including email.   You can access the cpanel by simply adding /cpanel to the end of your domain.   i.e.   http://mysite.com/cpanel
Can I view stats outside of Cpanel (without logging in)?
By default, no, the AWStats are secured and only viewable with a Cpanel login.
However, this site outlines a way to do it.   There's nothing to stop anyone from viewing the stats once it's implemented once they know the URL to go to though.  This has been tested on our server and worked fine with one minor change (see comment below link). No guarantees that it will always work or that it won't compromise the security of your data.
https://krystal.help/cpanel-advanced-topics/how-to-view-awstats-without-logging-into-c-panel
My only change would be in Step #6 to use the configuration in the SSL folder instead since your site is probably being loaded with SSL.
So: 
tmp/awstats/awstats.mydomain.conf would actually be:  tmp/awstats/ssl/awstats.mydomain.conf
How do I change my email password or set up an autoresponder?
The Net Now has two email services.   The first is the default email that comes with all web hosting accounts. Both types are managed via the webmail utility.
In the webmail provided with your web hosting, you access it by adding /webmail at the end of your domain.
(i.e.   http://yourdomainname.com/webmail)
Our other email service, the Premium Email Accounts is an add-on that we provide for clients looking for larger mailboxes that they can manage with IMAP on multiple devices or webmail only.   There is a fee for these and you would access the webmail utility by going to this link:   https://webmail.emailsrvr.com
You manage your email settings from the top right corner of either types of email account webmail.  Note:  You require your password to login to webmail.  If you need a hand resetting the password, please let us know.
How can I view my site to check it is working properly before I change the DNS from my old host?
We have a great article on viewing your website before you change the nameservers or even register your domain name.
Where do my website files go on the server? How do i upload them?
All public files need to be placed in the public_html folder on the server.   When you signup for hosting, we will provide you a login for ftp and for the control panel (Cpanel).  When you login to cpanel, you'll see there is a File Manager tool which you are able to use to upload files to or download files from the server.   Most users will find it simpler to use an FTP program if they have a large number of files they are working with.  FireFTP or Filezilla are popular ftp programs.
Can I upgrade after signing up?
Yes, you can upgrade at any time after signing up. Just get in touch with us by phone or by email and we'll adjust your billing and plan.
Can I use put multiple sites on my hosting plan?
Yes, you can!  You are able in cpanel to set up multiple domains pointing to the same website, or you can create a new folder with a new site using a different domain name, and you can also create subdomains of your domain name that point to specific parts of your site.  There are some limitations in place so please check with us to be sure you understand what you are able to do.
I need a website, but have a very small budget, can you help?
We have a solution for almost every budget!    All our hosting plans come with complimentary 10 page sitebuilder on request.   It's a rather limited tool, but not difficult to use and you can get a small website up and running in a day or two.   Other options might include using WordPress.COM to build a site, or some other free website tool so all you would need us to do is register a domain name for you.   Obviously there is a trade off as many will run advertising on your site.  (we do not have ads on our sitebuilder).  Let us know what your budget looks like and we'll give you an honest recommendation.
What is your refund policy?
We offer no-questions-asked refunds to all customers at any time for hosting or email services. If you are not satisfied with our product, or your needs have changed, then simply send us an email of your intent to cancel and requesting the refund.  We will issue a refund for any unused months of your hosting promptly.
For domain registrations where we have received your payment and have registered or renewed your domain on your instruction, unfortunately, we are not able to cancel these and therefore we can not issue any refunds.
Likewise, there are no refunds for SSL certificates purchased.
Unsure what you need? We're happy to answer your questions.
If we didn't answer all of your questions, feel free to drop us a line anytime.