Contact Support
We will contact you as soon as possible by email.  If you require a call back by phone, please provide your phone number.

Website or Email issues?
We can help!  Since we take unauthorized attempts against our email and websites seriously and have tight firewall rules in place to keep your website and email safe! This may result in accidental blocking of your account especially if there was a recent password change which can trigger our server firewall and you may become blocked on the server.  We carefully evaluate all requests and will not unblock any ip address that does not appear to be that of a valid user.
If you have access to the internet from another location, you can also login to cPanel (hosting control panel) and unblock yourself. 
Go to Security, IP Blocker.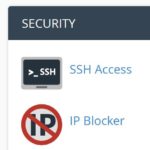 Other ways to reach us
Phone: 519.457.3505 or toll free: 1.877.959.9969
Business Hours: 9am-5pm M-F.
General Inquiries:  Please contact us via our contact form or give us a call during business hours.
After Hours support:   Provided by email – please send your message via our support form on this page.
Mailing Address:
The Net Now / Advanta Web Design
380 Wellington Street, 6th Floor
London, Ontario   N6A 5B5  Canada