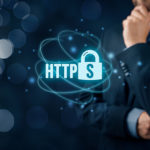 If you host with us, we can place a free Cpanel certificate on your site.   For an ecommerce or business sites, you may prefer to purchase an SSL certificate from your favorite certificate authority.   We include installation on our servers for any certificate purchased.   We only provide SSL certificates for sites hosted on our servers.
Note:   Our pricing is in Canadian Dollars.  If you are comparing pricing on other sites, please check as they are usually in US dollars.   The links to the certificate issuers below is to provide you with more information only.  Their pricing will often be much higher and is in US dollars.
Our most popular certificate is the Rapid SSL certificate.
Details on this certificate can be found at https://www.rapidssl.com/buy-ssl/ssl-certificate/
$40.00 + Applicable taxes


Another popular one is the GeoTrust QuickSSL or Quick SSL Premium certificate
Details and comparison of GeoTrust certs can be found at: https://www.geotrust.com/ssl/compare-ssl-certificates.html
$105 + Applicable taxes (QuickSSL)
$135.00 + Applicable taxes (QuickSSL Premium)
We can purchase all the leading certificates available from Geotrust, RapidSSL, Thawte, Symantec, Trustwave, Comodo at competitive prices, ask for a quote.